Our world may continue to change but our mission remains the same:
Equip Christ's Church and Impact Our Community
Our Current Series
Finding Jesus!
There is an abundance of teaching to be found in the world around us. One of the best, if not the best teachers, was Jesus of Nazareth. His contemporaries called him a prophet as well as a good teacher. His instruction showed us that humanity could walk down the right path. His own life was a model for us even today, and while living a good life he made some pretty bold claims. If you have questions or doubts about this 1st Century man, named Jesus, you are not going to want to miss this study.
Join us each week on either: Sunday at 9:00am or Thursday at 6:00pm
Welcome
Welcome to FBC. We are a church for those who are hurting, for those who may be doubting their faith, for those who want to learn what it means to follow Jesus in real and practical ways. If you've been told you aren't good enough, your faith isn't right, or you don't have it all together, we are the place for you.
Maybe you are just looking for a community to belong to. FBC can be that place. We are a family that is a mix of new and experienced followers of Jesus. There is always room for your and your family.
FBC is a space where followers of Jesus can help one another grow in faith and their relationship with one another and with God. You don't have to have it all together to come here. In fact, we don't expect you to! You are welcome to come just as you are.
Be Our Guest
Guests bring a smile to our faces because we love meeting new people. Whether you are joining us just one time or plan on making FBC your home, we would like to get to know you better. Click the link below to get to know us better and let us get to know you as well.
Learn more about FBC
Come for the community, experience joy in life!
"...people who attended weekly religious services or practiced daily prayer or meditation in their youth reported greater life satisfaction and positivity in their 20s..."
Harvard T.H. Chan School of Public Health - Research Study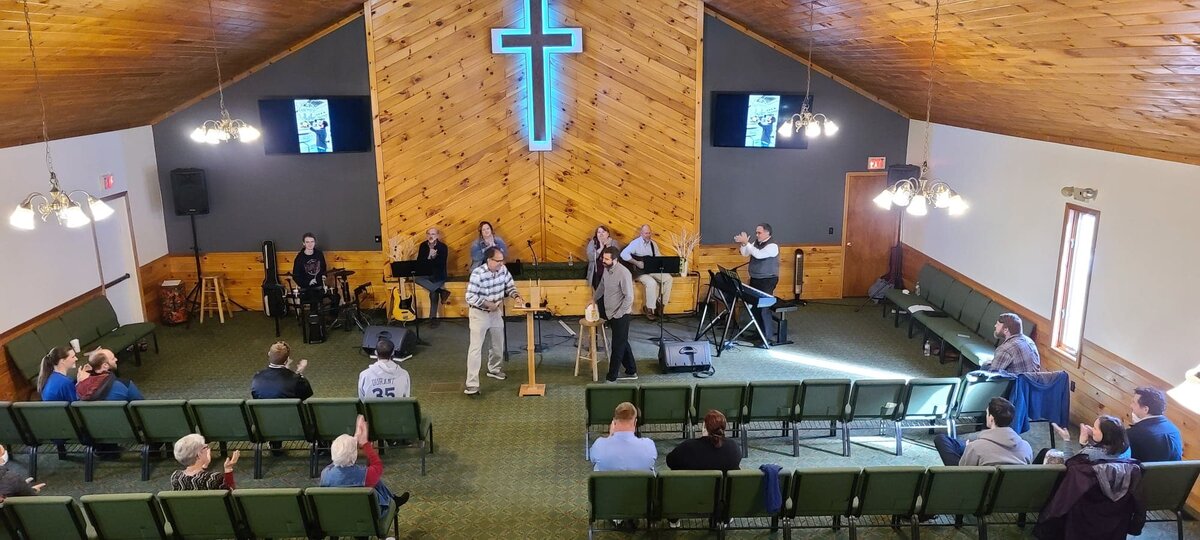 Worship Gatherings
Worship gatherings are the primary way we gather as a church to worship together, learn the Scriptures, pray for one another, and create space to hear from the Spirit. We also gather in similar age groups and stages of life to grow together.
What we believe
Ways to Get Involved
A growing disciple is an engaged disciple. Take the next step in your journey and get involved in one of the many FBC ministry opportunities. Discipleship, kids ministry, missions, etc.
Get Involved
Financial Support
Faith Bible Church exists to equip Christ's church to impact our communities. Help move the FBC mission forward through giving. We thank you for your help in partnering with us to accomplish this mission.
Support the Mission
Community Work
Here at FBC, we believe that our lives reflect what Jesus Christ was all about as we engage with our local community. The Gospel is best preached through lives that are consistent with God's Word.
"This is my command: Love one another as I have loved you." John 15:12
FBC is engaged and focused on helping our community through three intentional efforts. Those three community areas are Recovery, Foster Care, and Prison Outreach.
Helping families. And helping families that help families.
Foster Care
Fostering Hope is our connection to the Foster Care community. There are kids, all over our communities, in need of safe homes and lots of encouragement. We want to partner with you in making that a reality. Talk to us about getting plugged into the foster care system, providing resources for kids in need, or areas of prayer.
Learn about Foster Care
Recovery Community
Fostering Change is our connection to the Recovery community. Do you are someone you know struggles with an addiction or is stuck in an unhealthy pattern? We want to help. We are building a network of recovery resources to better serve our community in need.
If you would like to be part of the solution we invite you to contact us. FBC hosts NA and Celebrate Recovery meetings during the week. The truth is we could all use a little support.
Prison Outreach
Fostering Value is our connection to the Prison community. We were all prisoners to our sin until Jesus made us free. Sadly, there are men and women who have struggled in life and find themselves in a place that they never wanted to be. These are precious image-bearers of God, just like everyone else. They need our support and love in a real way. There are a number of ways for us to impact the prison community. Check-in with us and see.